Growing Divine- A modern textile collaboration of a Mormon, Muslim and Hindu artists
HOWDY or NAMASTE or SALAAM ALAIKUM
Living in rural India is never dull. There are the unfamiliar sounds that jar your being like the call of a peacock or a jackal howling at night. There are the smells— we will leave those to your imagination.
There are the sights of weddings dancing in the street, sequined sari-clad women perched on the back of motorcycles, naked holy men walking the roads. There is the constant pang of missing home. There are the frequent challenges like no electricity and a snake in the shoe cupboard and rats in the toilet and a culture that is often incomprehensible. There is the constant demand for patience and personal growth. It is not comfortable.
There is, also, the deep resounding belief that if my Heavenly Parents wanted me on this path, there must be abundance here. So I looked around to find my own personal abundance.
And it IS here, in many many ways. (I am looking out the door now to the golden green of tropical afternoon sunshine and it makes me take deep breathes of gratitude. Abundance.)
But one of my most favorite ways is the abundance of creation possibility. In India, I can create in ways that are simply not possible in America. I create furniture, spaces, businesses, books, clothes… and now, textile art.
I was looking for a way to play to my Indian friends' strengths. Mr. Hussain, a master embroidery artist, is exacting about form. He drives me crazy. I want things to roll and sway and rollick— and he demands precision and decision and tidiness. And our projects are possible and beautiful because of his demands.
Kusum, a woman with magic hands, will tackle anything. She leads a village women's co-op in creating handicraft projects that help provide a livelihood (and a sisterhood) for all of them. Kusum will take an idea and twist and turn and from her hands comes something new and better than I had imagined. We laugh together often… mostly at ourselves.
I share almost nothing with these people. But we share this: we create.
The Swim
42" x 57"
Growth can knock us to the ground and leave us gasping. The demands can put us in a seemingly never-ending fetal position with swirls of dark. But I read the words of a wise artist, Annie K. Blake, "You can't dispel all the darkness. It is in us. Where you shine light, a shadow is always created and it is part of the beauty. But we've forgotten our ancient stories of journeying into the Underworld in order to find the key to Heaven. We, the heroes of our myths, go down into the dark places. We rescue and heal and swim through those parts of ourselves, emerging stronger and more vibrant for the contrast... we grow in darkness before we are born." This piece is the swim.
Mother Angel
52" x 57" with credit to AshMae Hoiland's original watercolor
We live in a temporary state. A state where we try our best and know it will never add up. We fail as we grow. But, frankly, straight addition is not the point when you are partnered with the Divine. We reach with our best effort… and we are transformed. We become a more glorious being than we could ever have been on our own.
Truth Tribe
21" x 42"
If you're going to survive the demands of this life, I would recommend you get a tribe like mine. (All materials in this piece came from my friends' enchanting junk drawers.) We all need women who take all our junk and weave it into every day life. They can handle our junk. They can handle us. They cheer us and lift us and celebrate us. Our tribe are those who reflect back to us the version we know we want to be-- and sometimes actually are already. We all need a Truth Tribe.
Inspiration
48" x 48"
We all want the Divine in our life. The Divine Home is so rich and abundant that we know just a sliver of it would sustain us. But sometimes the touch of Divine is so fleeting and light and ephemeral, that it is hard to know it. If you look out of the corner of your eye, perhaps you'll catch a glimpse as it floats by. Perhaps you'll feel it brush your cheek as you turn. Perhaps you'll catch a piece of shine to sustain you. The Divine is here.
Off A Cliff
23" x 48"
Sometimes there is that moment in our life. We have been going along our everyday existence thinking that's what life was and is and going to be. And then there is this moment. This moment that "derails" us into a more demanding, growing, sometimes magical place. It's like we fell off a cliff and land in a whole new world. Perhaps we break our leg, or fall in love, or move to India, or have a child or or or. Who knows. It's not good or bad. It's simply life, now, in a new place…frothing.
Line Upon Line
19" diameter x two
We learn a little at a time… in fits and starts. And, from our perspective, the lines may never make sense. Life can be a hodge podge of a little bit of this and a little bit of that. BUT, seen from the perspective of our Heavenly Parents, all the lines fall into place creating a stunning tapestry of shine and glory. Know your lines carry magnificence — even when you cannot see through the chaos.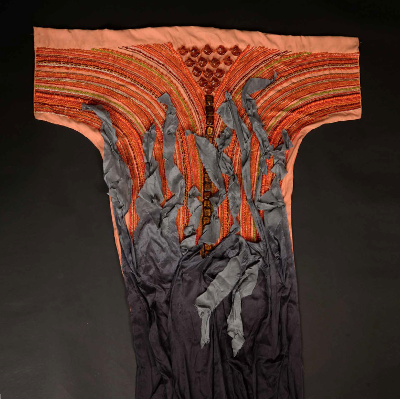 Begetting ?
41" x 50"
In Hinduism, destruction begets creation. And I think the same goes for us all… sometimes things have to break down before they can rise again. All of us need the refiner's fire to burn off the dross and let the divine power within us surge to a new place of growth. The trick in all of this is to keep your core… keep the shine… ensure a rebirth and not just an end.
Exuberant
98" x 55"
Sometimes growth is the most beautiful thing you've ever experienced. Sometimes it comes with a surge of exuberance— when you know you are becoming the exact thing you and your Heavenly Parents all want you to be. And then the universe ripples and reverberates and resounds with JOY. The energy and surge and colors would be overwhelming— if they were not just exactly as they should be.